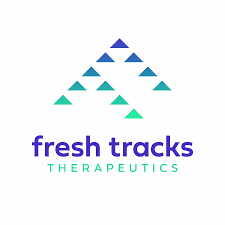 Fresh Tracks Therapeutics, Inc. (NASDAQ:FRTX – Get Free Report) shares dropped 1.1% during mid-day trading on Wednesday . The stock traded as low as $0.88 and last traded at $0.90. Approximately 76,272 shares traded hands during trading, a decline of 87% from the average daily volume of 590,789 shares. The stock had previously closed at $0.91.
Fresh Tracks Therapeutics Stock Performance
The business's fifty day moving average price is $0.89 and its 200-day moving average price is $0.73. The stock has a market cap of $4.78 million, a PE ratio of -0.29 and a beta of 0.33.
Fresh Tracks Therapeutics (NASDAQ:FRTX – Get Free Report) last issued its quarterly earnings data on Monday, November 13th. The company reported $0.32 earnings per share for the quarter. The firm had revenue of $7.94 million for the quarter. Fresh Tracks Therapeutics had a negative net margin of 91.29% and a negative return on equity of 102.00%.
Institutional Inflows and Outflows
A hedge fund recently bought a new stake in Fresh Tracks Therapeutics stock. GTS Securities LLC purchased a new position in Fresh Tracks Therapeutics, Inc. (
NASDAQ:FRTX
–
Free Report
) in the third quarter, according to its most recent filing with the Securities and Exchange Commission (SEC). The institutional investor purchased 50,100 shares of the company's stock, valued at approximately $49,000. GTS Securities LLC owned 0.84% of Fresh Tracks Therapeutics at the end of the most recent reporting period. 1.68% of the stock is currently owned by institutional investors.
Fresh Tracks Therapeutics Company Profile
Fresh Tracks Therapeutics, Inc, a clinical-stage pharmaceutical company, engages in the development of various prescription therapeutics for the treatment of autoimmune, inflammatory, and other debilitating diseases in the United States. The company develops FRTX-02 (BBI-02), an oral DYRK1A inhibitor that is completed Phase 1 clinical trials for the treatment of autoimmune and inflammatory diseases; FRTX-10 (BBI-10), a covalent stimulator of interferon genes inhibitor for the potential treatment of autoinflammatory and rare genetic diseases; and FRTX-03, a topical DYRK1A inhibitor for the treatment of mild-to-moderate skin conditions, as well as next-generation kinase inhibitors.
Featured Stories
Receive News & Ratings for Fresh Tracks Therapeutics Daily - Enter your email address below to receive a concise daily summary of the latest news and analysts' ratings for Fresh Tracks Therapeutics and related companies with MarketBeat.com's FREE daily email newsletter.