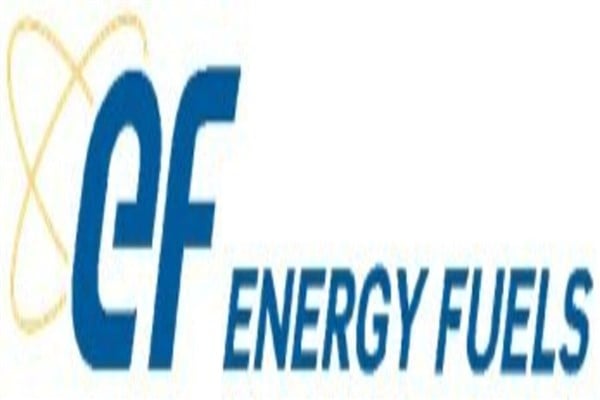 Energy Fuels Inc. (TSE:EFR – Get Free Report) (NASDAQ:UUUU)'s share price crossed above its fifty day moving average during trading on Wednesday . The stock has a fifty day moving average of C$10.75 and traded as high as C$11.35. Energy Fuels shares last traded at C$11.01, with a volume of 237,781 shares changing hands.
Analysts Set New Price Targets
Separately, Canaccord Genuity Group lifted their price target on Energy Fuels from C$12.00 to C$12.50 and gave the stock a "speculative buy" rating in a research note on Tuesday, September 26th.
Check Out Our Latest Analysis on EFR
Energy Fuels Stock Performance
The company has a current ratio of 26.90, a quick ratio of 19.23 and a debt-to-equity ratio of 0.36. The stock has a market capitalization of C$1.87 billion, a price-to-earnings ratio of 13.33 and a beta of 1.60. The firm's fifty day moving average price is C$10.78 and its 200 day moving average price is C$9.25.
Insiders Place Their Bets
In other news, Director James Birks Bovaird sold 6,000 shares of Energy Fuels stock in a transaction on Friday, November 17th. The stock was sold at an average price of C$11.50, for a total value of C$69,000.00. 1.77% of the stock is owned by insiders.
About Energy Fuels
Energy Fuels Inc, together with its subsidiaries, engages in the extraction, recovery, exploration, processing, permitting, evaluation, and sale of uranium, vanadium, and rare earth elements. It also targets heavy mineral sands, including ilmenite, rutile, zircon, and monazite. The company owns and operates the Nichols Ranch project located in Wyoming, White Mesa Mill located in Utah, the Pinyon Plain project located in Arizona, the Roca Honda project located in Central New Mexico, the Sheep Mountain project located in Wyoming, the Bullfrog project located in Utah, and the La Sal project located in La Sal West and La Sal East.
Featured Stories
Receive News & Ratings for Energy Fuels Daily - Enter your email address below to receive a concise daily summary of the latest news and analysts' ratings for Energy Fuels and related companies with MarketBeat.com's FREE daily email newsletter.